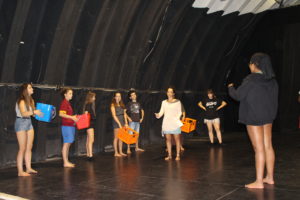 "This year the Italian group was composed of 11 participants between the ages of 13 and 18 and two team leaders. The Italian association that manages this project is ARCI RAGAZZI.
It was the first time in ART CAMP 2018 for everybody and although they were there for the first time, they became a great and tight group.
To work on the topic of the camp – that is, colonialism – we met all together before leaving to the ART CAMP. The work continued at the camp, first with a discussion to outline the topics and the ideas we had found in Italy, then to try to focus on the different ways to colonize a land: territorial, linguistic, economic-commercial, cultural. After that the kids had fun  performing these ideas in a theater play.
The most important thing they could learn here was the existence of different cultures, languages, points of view that are the main quality they could use to understand the world outside."
(Alice, the Italian team leader)