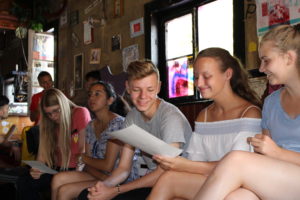 "This year the German group was composed of 16 participants between the ages of 13 and 18 and two team leaders.
The German association that manages the ART CAMP project is SOZIALE BILDUNG e.V.
Some of the kids had known each other for a long time and others had been at the ART CAMP last year.
On the first morning, they focused on the past and the history of colonialism, above all on Germany and its "conquest" of Namibia.
Then they discussed and they decided to honour the memory of fallen people killed in that period by performing a play.
(Claudia, the German team leader)